Please wait, loading...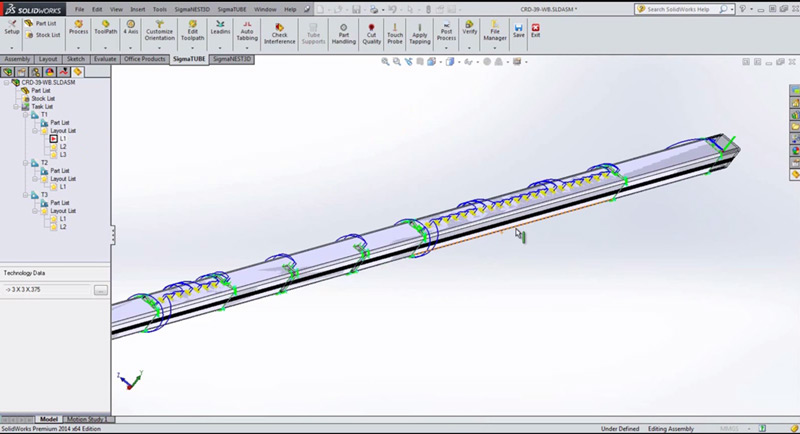 SigmaTUBE generates NC code without exporting assemblies or parts from SOLIDWORKS. In addition a wide variety of popular or neutral SolidCAD file formats are also supported. In addition, SigmaTUBE contains its own library of standard shapes.
SOLIDWORKS (native)
Parasolid
Siemens NX
Inventor
PTC Creo
All nesting and tool path data is stored with the SOLIDWORKS assembly compatible with PDM or product data management systems.
Dialogue Interface for step-by-step programming
TrueShape nesting
Multi-task automatically groups sections for nesting
Multiple profile nesting
Honors seam face in nesting
Manual nesting with such features as place part, delete, move, bump
Automatic tool path generation/sequencing
Part mode tool path
Assembly mode tool path
Programmable tube supports
Realistic tool path simulation
Contour segmentation when needed
Sub-routine code available
4-Axis tube-wall thickness compensation
5-Axis motion
Separate tail stock and local X-axis control
Lock rotation for small hole cutting
Round tube
Rectangular tube
Square tube
General convex tube
Extruded sections
Angle iron
Channels
I-Beam
Straight end-cuts
Miter cuts
Holes
Cut-outs
Cope/Finish Mouth cuts
5-Axis bevel holes
Land bevels
Automatic marking/etching